I have been getting ready for the Walhalla Oktoberfest! Below are some pictures of some new things, and some of what I have been doing the past few days!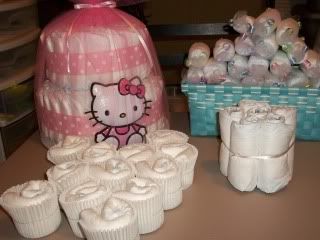 This is my Hello Kitty diaper cake. I LOVE it!!! If you are interested in purchasing one, simply visit
Diaper Cakes by Wendy
and order a Two Tiered - Themed cake and enter in Hello Kitty as your theme!
Also pictured is an undecorated mini cake, undecorated diaper cupcakes, and some diaper candy rolls.
Some undecorated diaper cupcakes!
Mini diaper purses, one of my favorite favors!
Mini diaper cakes - my favorite one so far is the Clemson one I made!
Butterfly mini diaper cake, Gerber daisy mini cake, and Christmas mini diaper cake.