I have a ton of pictures I would like to share with everyone, but I will just post a few. :) (If you look at all the pictures you will get a treat at the end of this post, promise!)

The first one is a set I did a few days ago - I LOVE it! It is a 3 tiered boutique diaper cake with a safari/jungle theme and 8 matching mini cakes!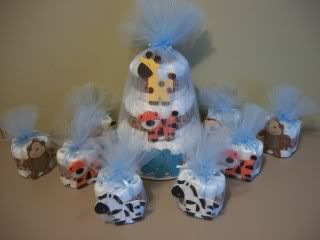 Yellow ducky 3 tiered boutique cake



I love this one too, it is a Princess castle themed 3 tier diaper cake



Blue elephant themed 2 tiered diaper cake



Ladybug and dragonfly themed 3 tier diaper cake



Washcloth spoon lollipops



Boo boo bunnies



Baby washcloth bunnies



Washcloth/diaper candy rolls



And..... as I promised, it is time for your treat! I do believe this is the first picture I have posted of myself (I am not quite as yound as I look, promise!) on here. This is my little princess and I, and I am pretty sure you can guess where we are!




So, now that I have shared that, will you please share some comments? Thanks!!